After dedicating my previous six weeks to standup comedy, I waltzed into September unsure of what to dive into next.
My first idea was to train as a hibachi chef. But after a couple of hours of internet-ing it became clear that my 828 square foot apartment would not be the ideal arena for a large grill with open flames. Nor would practicing knife skills in the background of Peyton's Zoom calls be great for the health of our relationship. So I decided to shelve Hibachi until my eventual mid-life crisis when I'll ~hopefully~ have the requisite space.
While brainstorming alternatives, it occurred to me that we were (at the time) two months away from a massive election taking place in my backyard. On November 8th, Texans would choose between Beto O'Rourke or the incumbent, Greg Abbott, for governor. And following the Uvalde shooting and the Texas abortion ban, it felt particularly important to help bring about change to my adopted state.
I went on the Beto O'Rourke website and concurrently found information about a rally in Austin on September 6th and an open role for full-time Organizers for the campaign. So I signed up to volunteer at the event and applied for the job.
I showed up for the 5pm rally at 3:30pm and was handed a clipboard and told to sign folks up for canvassing shifts. The task was quite tough until Beto took the stage. For 20 minutes, he had the several-hundred person crowd entranced with his speech that seamlessly bounced between issues of abortion, gun violence, the energy grid, voter suppression, education, immigration, and more. When the speech ended and the photo line began, suddenly activating folks to get involved got a whole lot easier.
Three days later I had my interview. It lasted all of fifteen minutes and began by my interviewer telling me that this would not be a sexy role. She shared that I'd work weekends and that my time would be spent making phone calls, knocking on doors, training volunteers, and staffing events. Then she asked me why I was interested in working on the campaign, answered my questions, and told me that I should hear back about a decision shortly.
Three days later I received a call from the hiring manager telling me that I got the job – with a start date of September 19th.
Day one was spent on a Zoom orientation. On day two I went to the Austin office (a decommissioned schoolhouse that the Beto campaign shares with Alamo Drafthouse) and met my manager and some members of my team. And on days three and four, 300+ organizers from all-across the state traveled to Austin for training on the upcoming "get out the vote" phase of the campaign.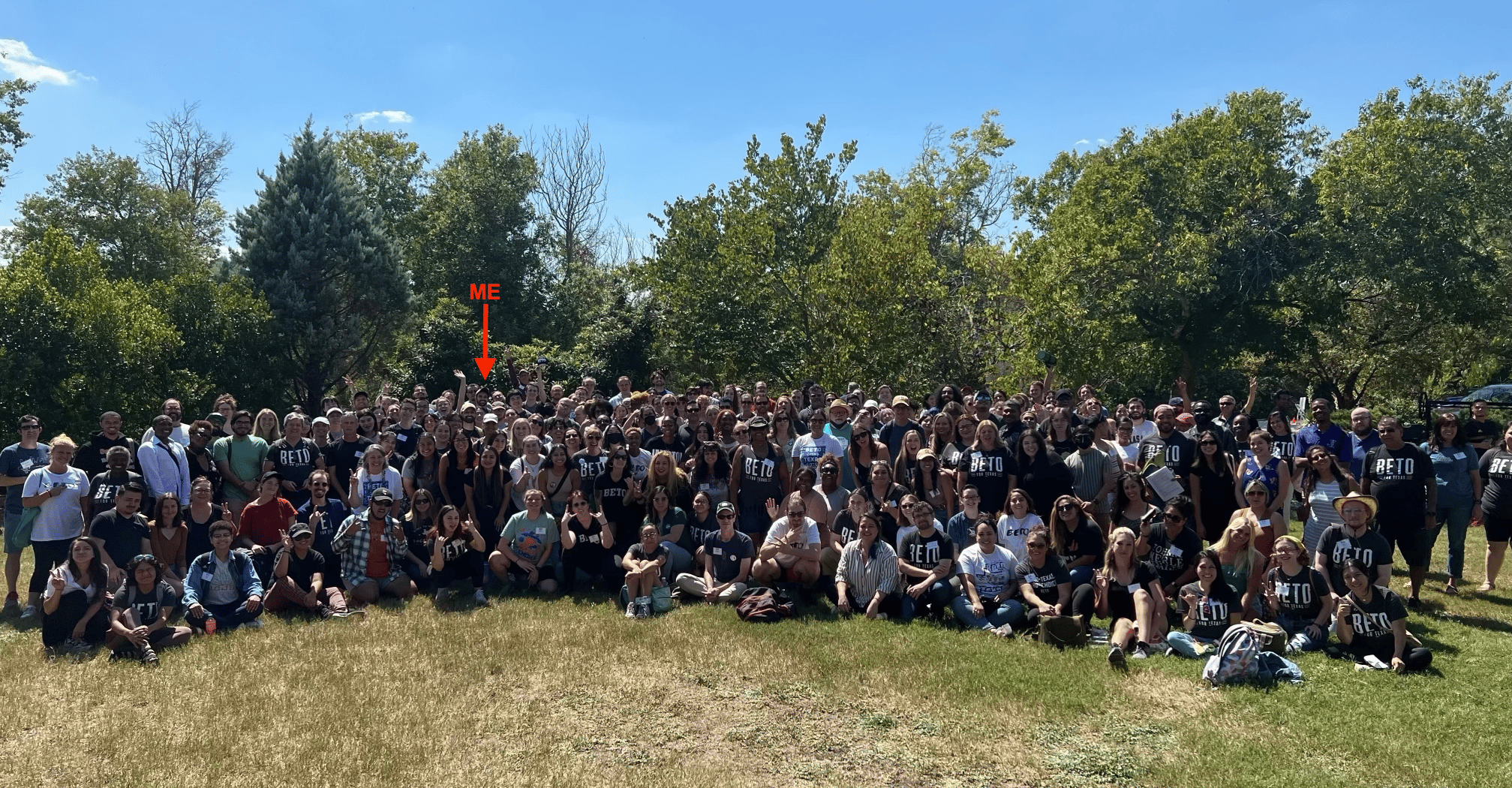 It was there that I learned about the campaign's strategy and the "why" behind the work I'd be doing as an organizer.
There are tons of folks that are Beto supporters (or at the very least, Beto sympathizers) who won't go to the polls unless they're given a nudge to do so. In 2020, 5.2 million Texans voted for Joe Biden. In his 2018 senate race against Ted Cruz, Beto received 4 million votes – and lost by 200,000. If the campaign can activate those Biden voters in this election, Beto will win.
Of the 17 million registered voters in Texas, the campaign has identified 7 million people that we expect would cast their vote for Beto. Those 7 million live behind 5 million doors. So over the next 40 days until the election, the campaign intends to knock on those 5 million doors and to make voting plans with every person we reach. That means organizers like me will hit 300 doors a week. And we'll also recruit and train an army of tens of thousands of volunteers to join us in this effort.
Beto's job will be to get us within 2-to-3 points of striking distance. From there, it'll be on the organizing team to activate the voters necessary to bring us across the finish line.
These next 40 days will be a grind. I'll work 13 hours on Fridays, Saturdays, and Sundays (with Thursdays being my one day off) and have had to cancel several plans that I was excited about.
Nonetheless, I'm glad to be a part of the campaign. It's fulfilling to work on something that I believe in. The team dynamic makes the fairly drab tasks feel fun and energizing. And it's motivating to know that our backs are against the clock with winning or losing on the line.
1994 was the last year that a Democrat won statewide in Texas – the longest drought of any state in the US. Winning would be historic, and it would be pretty darn cool if we're able to pull it off!
Friends Doing Cool Things
Adom Dumanian's dad invented a more effective form of stitches in 2012 while working as a surgeon in Chicago. Stitches today can cut through otherwise intact tissue and far too often fail to repair wounds. To solve this problem, Dr. Dumanian created a "mesh suture" that has more surface area to distribute forces and can better ensure strong early repair.
With Dr. Dumanian busy practicing medicine, Adom decided to dedicate himself post-college to bringing Duramesh to market. He's bounced between Mexico and Puerto Rico to manage the product's manufacturing and jumped through the countless hoops required to get the new medical product properly licensed.
Earlier this month, Adom and his team got the news that they'd been eagerly awaiting – Duramesh had received FDA clearance. That means that after four years of tireless work by Adom, Duramesh is now able to be used by every hospital in the US! 👏
Monthly Favorites
🎵 Song: Final Form by Sampa the Great – An absolutely epic beat, and the Zambian rapper brings the energy and flow to match. I have a soft spot for songs that combine rap with horns and this one does so beautifully.
📝 Article: Does My Son Know You? by Jonathan Tjarks – On September 10th, Jonathan Tjarks passed away from cancer — one that doctors deemed terminal last April. He was 35 years old.
While his father withered away from Parkinson's when Jonathan was young, old friends stopped coming around. In this beautiful essay penned six months ago, Jonathan reflected on that experience in the context of how he hopes his friends will be present in the life of his two-year-old son after he's gone.
"I have already told some of my friends: When I see you in heaven, there's only one thing I'm going to ask—Were you good to my son and my wife? Were you there for them? Does my son know you?
I don't want Jackson to have the same childhood that I did. I want him to wonder why his dad's friends always come over and shoot hoops with him. Why they always invite him to their houses. Why there are so many of them at his games. I hope that he gets sick of them."
---
Thanks for reading! As always, if anything I shared resonated with you, I'd love for you to shoot me a reply 😊
Til Next Month,
Ben
​