Thanks for tuning in to the second ever 'What a Month! It's Ben' newsletter!
In June, I moved in with Peyton (my girlfriend, not the Manning brother), made progress on my t-shirt brand, and attended a wedding in the beautiful town of Pella, Iowa. For details, read on below. And if anything I share resonates with you, I'd love for you to shoot me a reply!
Moving in with Peyton
On June 7th, Peyton and I moved in together. Well, that's not entirely accurate. The lease to our East Austin apartment started on June 7th. But Peyton's previous lease was up on May 31st, so the Sunday before she and all of her things moved into my studio apartment (see photos below).
After a cramped nine days, our movers braved the 104-degree Texas heat to help us move the three blocks to our new home. From there, we unpacked and combined our things. And after two weeks that included trips to The Container Store and Target, a Goodwill drop-off, and some online shopping, we were finally settled in.
Living together has certainly required some compromise. For example, I think decorative pillows on a bed are an absolute nuisance, yet Peyton finds them to be essential décor. And I was a bit taken aback when I asked where we should hang the three-foot-long framed photo of a car that I won at a 2018 bar trivia raffle and her response was "nowhere."
But other than those silly (and quickly resolved) spats, it's been pretty smooth sailing. Peyton and I were spending so much time together before the move-in that living together has felt more like a convenient formality than something to adjust to. So while moving in together marks a big step in the relationship, it's one that's felt natural and nice and fun to take 😊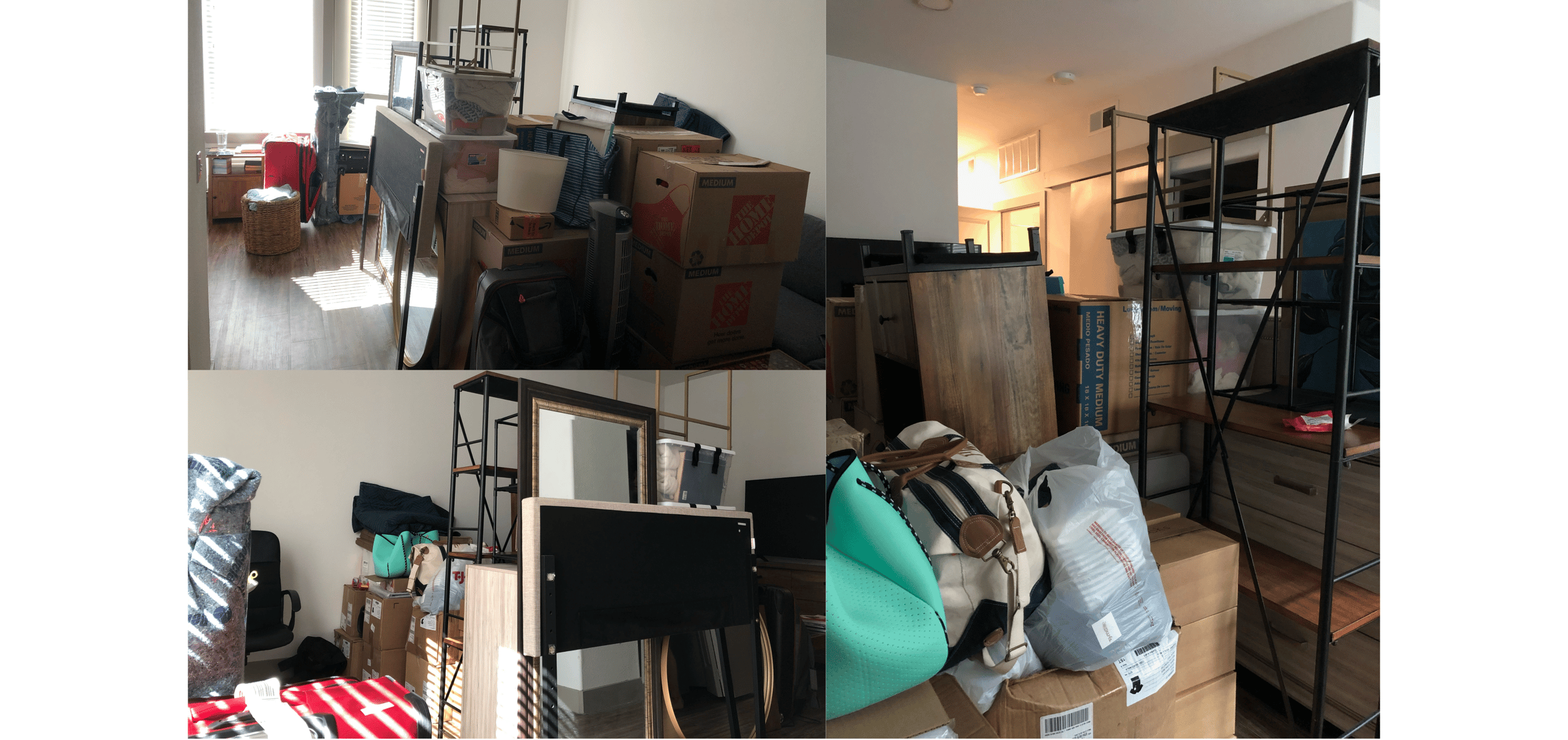 Downside Up-dates
I had a mixed month with Downside Up – the brand of t-shirts with upside-down pockets I launched in May. I'll start with the progress and wins:
🥳 I made my first sale to a stranger over the internet!
⭐ I added reviews to the site and had my first seven come through – six from friends and one from a nice man in Bolivia who wrote a review after reading an essay I shared on Medium.
👨‍💻 I spent some time on SEO (search engine optimization) – It'll take time for this work to truly kick in. But in the last few weeks, it's been fascinating to slowly watch Downside Up climb up the search results rankings for the query 'upside-down pocket t-shirt' (it currently sits somewhere between pages three and five).
🏈 I used Matchpoint Connection – a company founded by former Northwestern quarterback Zack Oliver – to connect with college athletes for an ambassador program. I sent a batch of college athletes a free shirt and hooked them up with a 20%-off code. Every time their code is used, I'll shoot them $5. Downside Up's initial brand ambassadors represent LSU Baseball, LSU Basketball, Army Football, Faulkner Football, and Southern University Softball. I'm capping this test out at 10 athletes and am curious to see if anything will come from it. Regardless, it's been fun to contribute to the world of NIL (Name, Image, and Likeness) – even in the tiniest of tiny ways.
📦 I listed Downside Up on Amazon! The listing experience was super buggy and way more difficult than I anticipated. It took a couple of days of fumbling around and tons of time on message board and YouTube tutorials to get it figured out. But it looks like it's all set now and will be ready for Prime delivery on July 9th!
On the flip side:
I haven't had a ton of juice around digital marketing – which is a pretty darn important component to a successful e-commerce business.
Part of that is interest. Through this experience, I've learned that I much prefer in-person selling to the more impersonal nature of digital marketing. Content creation, posting on social, and ad optimization has largely felt like a chore.
But some of that would likely be resolved if I had more than one shirt to market, as it feels silly to create and then frequently post content of the same tee over and over again.
My initial plan was to sell 100 of the scuba tees, which would then cover my costs for placing an order of 300 (the minimum order size) for tee number two. Yet now that I'm feeling stalled out, I think a new design is what I need to regain excitement to put more effort in. So despite selling just 50 of the scuba tees so far, I've decided to pull the trigger on that next design – this time in three color variations.
In July, I'll be shifting my primary focus to a new project and will keep Downside Up rolling on the side. The infrastructure for the business is all set and there should be compounding returns to the work that's been done up to this point. I still think there's exciting potential with the overarching concept of upside-down pocket graphic tees. So I'll continue to work on Downside Up at a nice, leisurely pace and hopefully grow the brand slowly overtime 😊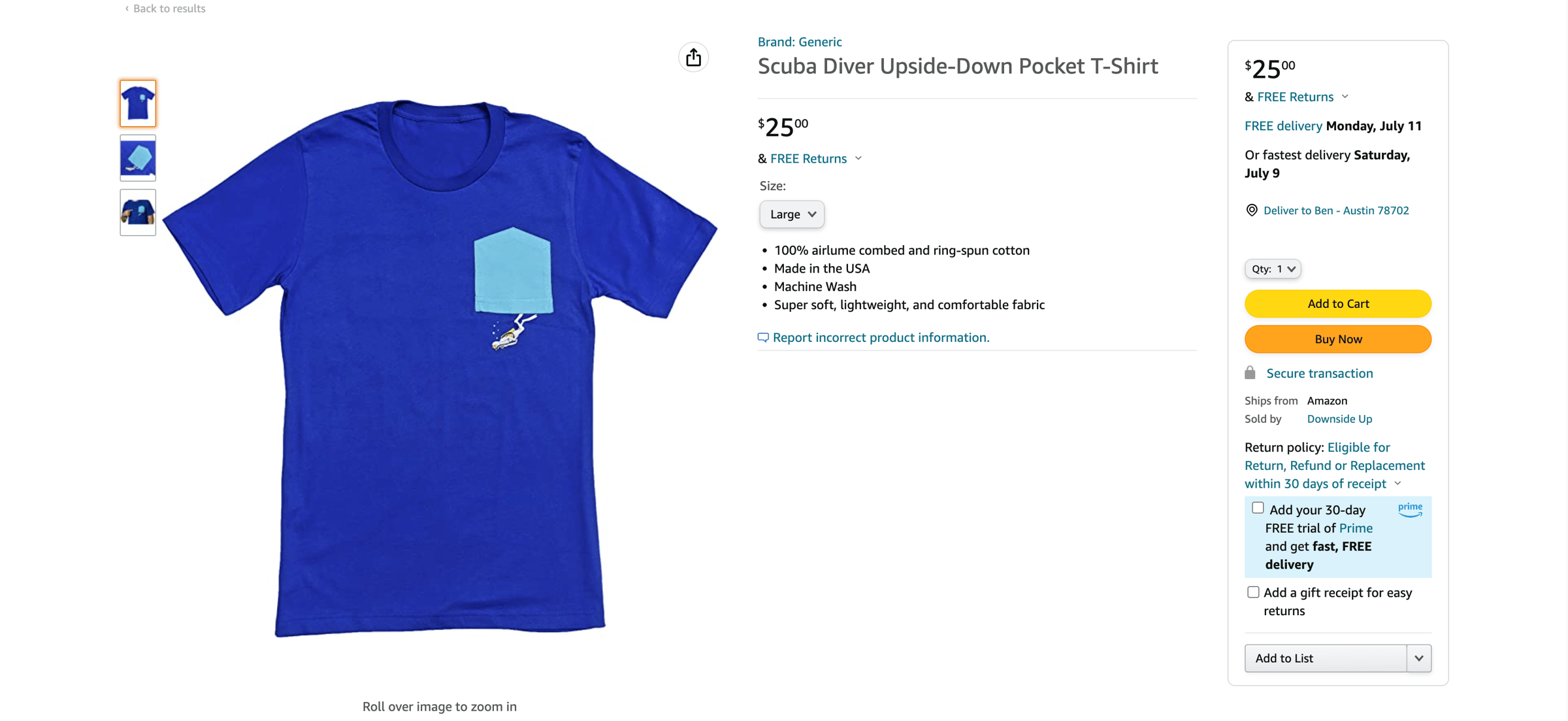 Wedding in Iowa
On June 24th, I trekked to Pella, Iowa for Matthew and Maddie Rooda's wedding. While Pella wasn't the easiest place to get to (it required flights to Dallas and then Des Moines, followed by an hour-long drive), it wound up being a sweet, quaint town to spend time in.
Pella was founded by immigrants from The Netherlands and to this day, the Dutch influence can be found throughout the town. I stayed at the Royal Amsterdam Hotel, ate a Dutch Letter from Jaarsma's Bakery for breakfast, and had a frikandel at Dutch Fix for lunch. Pella's also home to the Central College Dutch (yes, that is the name of their mascot), whose football team has not had a losing season since 1960 (shoutout to Head Coach Jeff McMartin – a friend from the early Zcruit days).
After checking into the hotel and grabbing a bite to eat, I attended the Friday night welcome party at Slideways – a bar with go-karting and mini golf. I was surprised to see Matthew in a sling when I got there (turns out he had surgery to repair a torn pec a month ago) but even then he still lapped me on the track.
On Saturday, vows were exchanged during a beautiful ceremony at a local church. From there, we hopped over to the reception to celebrate over a great meal (plus an abundance of donut holes for dessert) and dancing. And we capped off the night at a pub across the street from the reception venue. Overall, it was a fantastic weekend and a joy to be a part of Matthew and Maddie's big day 😊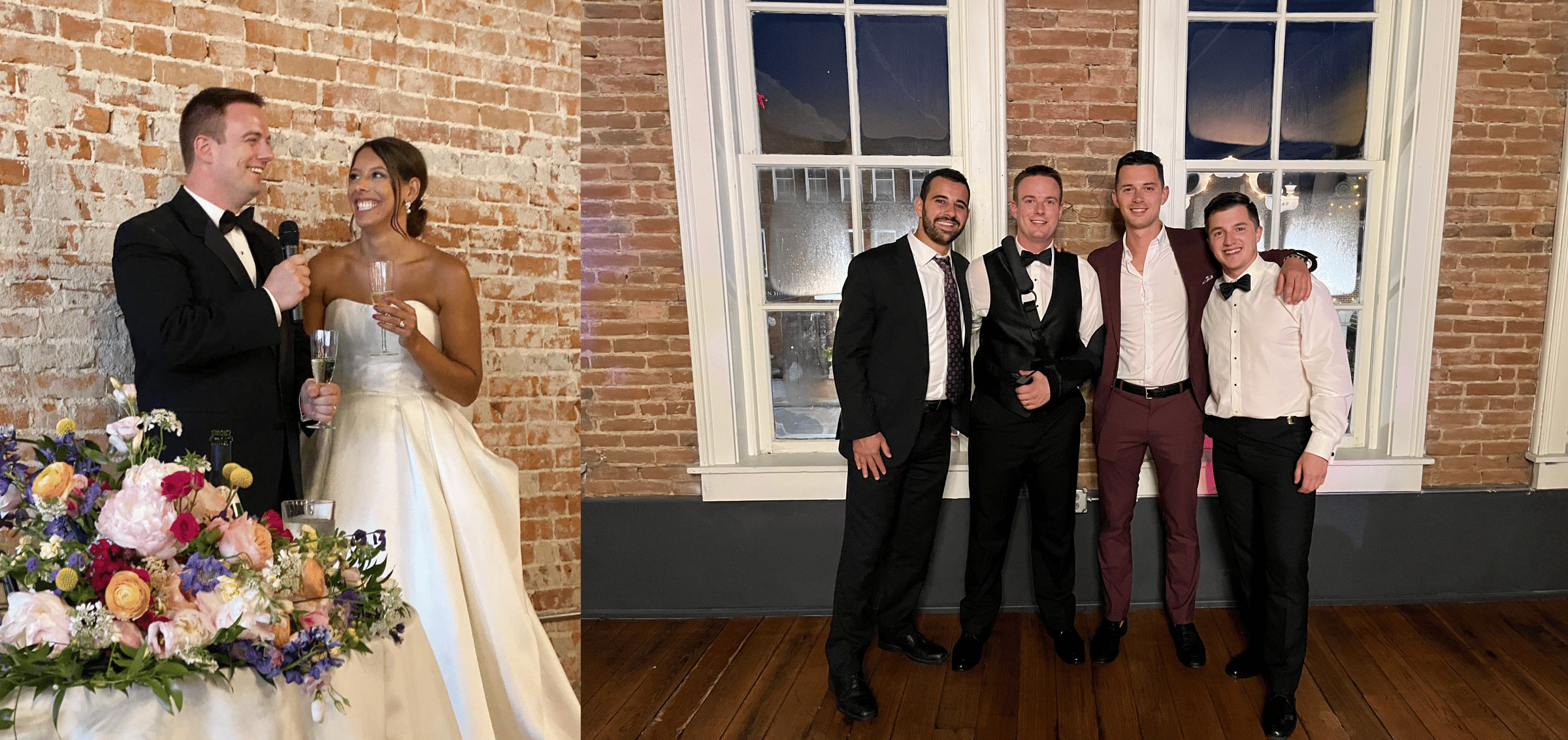 Friends Doing Cool Things
Raza Jafri co-created the East Austin Comedy Club in April to promote and give quality stage time to Austin's up-and-coming stand-up comedians. In June, they expanded from one night a week to three (with two shows each night) and celebrated their first sold out show 🥳
It's easy to see why this underground club has been building buzz. The intimate venue (it seats 45) is loaded with character and charm. An open wine bar is included in the $20 ticket price. And the performers have been personally vetted by Raza and his partner Andre Ricks, so they all fall somewhere on the spectrum of mildly to wildly funny. I've been three times now, and I've got a feeling that some of the folks I've seen will be on my TV screen in the next few years. If you're looking for something to do in Austin on a Thursday, Friday, or Saturday night, the East Austin Comedy Club will not disappoint 😊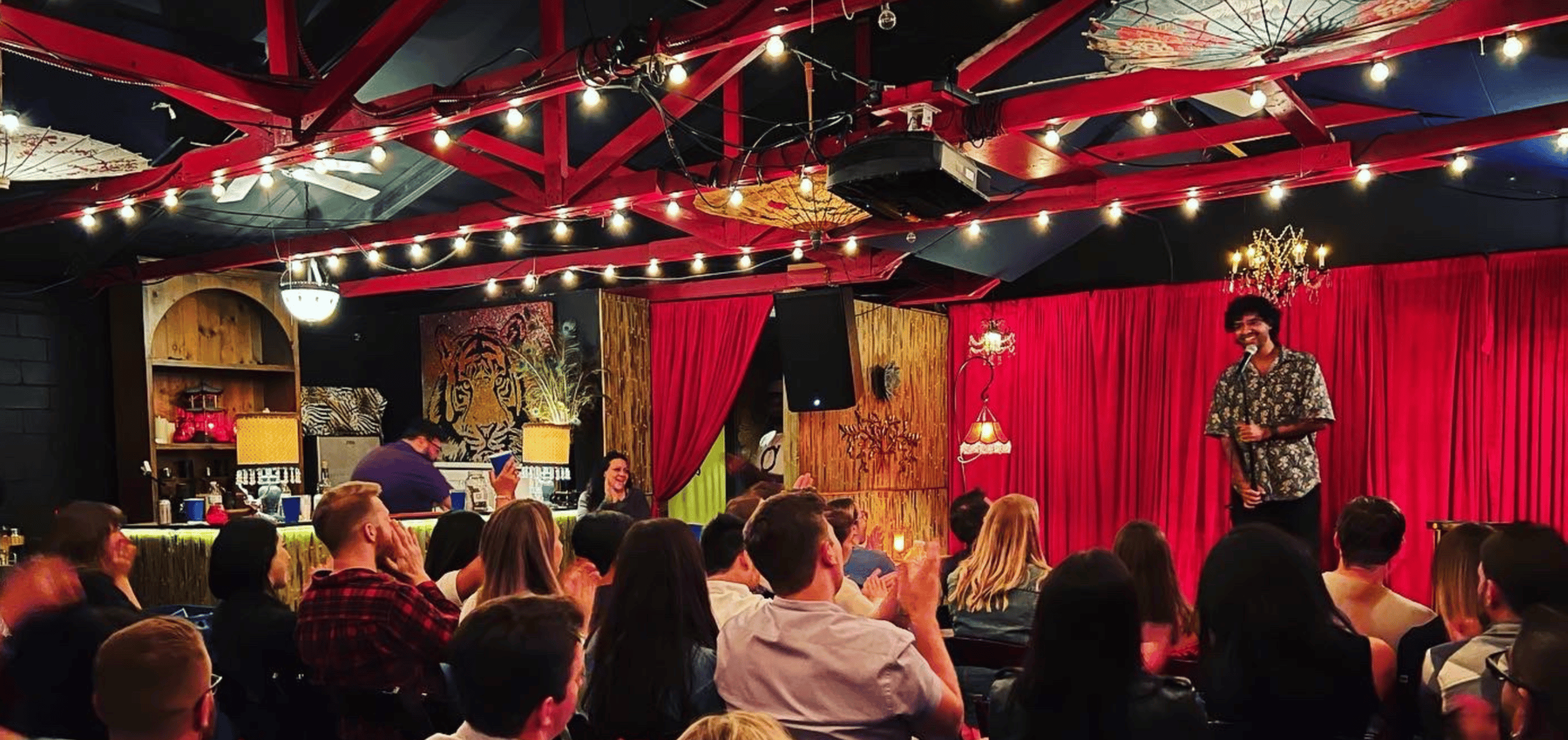 Monthly Favorites
📝 Article: Djokovic, Nadal and the Inevitable End by Joe Posnanski — This is a fantastic read – obviously for tennis fans, but also for fans of great writing. The below paragraph especially jumped out at me:
Unlike other transcendent rivalries there seems nothing between them except for the tennis. Do they like each other? Do they loathe each other? Even now, after all the matches, all the scars, all the celebrations, it isn't entirely clear. They seem to be neither friends nor enemies but instead strangers who just met on a plane and found that they are the two best tennis players on earth.
It's a novel insight that felt immensely obvious after I read it. Djokovic and Nadal do have an iconic rivalry. Yet I've strangely never thought of it as such. And I think that's in large part because their relationship with each other feels so uniquely unweathered for a duo that's battled so much and so evenly over the past two decades.
🎵 Song: Sugar by Remi Wolf — Just a feel good summer-time tune. Don't let my Bluetooth connect at the July 4th barbecue unless you want this song on repeat for hours on end.
​
Til Next Month,
Ben
​